---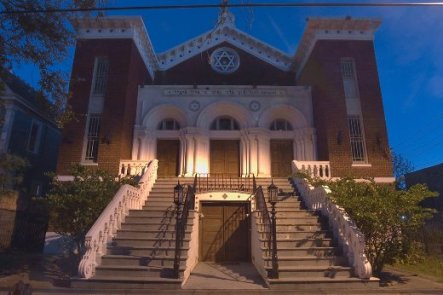 Anshe Sfard is an Orthodox Congregation in the heart of New Orleans. Located at 2230 Carondelet St., in close proximity to the Uptown/Garden District areas of the city, Anshe Sfard is just steps from several hotels and within walking distance of the Central Business District, the Convention Center and the French Quarter. The Synagogue building was built in 1926, and is listed as Contributing in the Garden District, National Register District.
FOR SERVICE INFORMATION Go To : anshesfard.org
Contact us at: info@anshesfard.org
Do not use contact us link at the top middle of this page.
Also do not use info@anshesfard.com it does not work
Benjamin Berman 504-529-3149
NEWS MONDAY, FEBRUARY 2, 2015 NEWS
No DHS Deal With Dems; Boehner's Job Safe, House Whip Scalise Says
House Majority Whip Rep. Steve Scalise on Sunday rejected criticism that the chamber's Republican leaders are failing in attempts to fully fund the Department of Homeland Security -- dismissing allegations of cutting a partisan deal and blaming Senate Democrats. Scalise told "Fox News Sunday" that House GOP leaders have not made a deal with chamber Democrats that would fund the agency through the fiscal year and erase provisions to roll back President Obama's executive actions on immigration. "There is no such deal. There is no such bill," said Scalise, the House's third-ranking Republican. Fox News
VOA VIEW: A deal with Democrats would be a major defeat for Republicans.
Boehner Hits Obama Over Netanyahu Visit
House Speaker John Boehner accused President Barack Obama's administration of increasing animosity with Israeli Prime Minister Benjamin Netanyahu ahead of his visit to Washington this week. "The animosity between the White House and the prime minister is no secret in this town. But they've certainly made it worse in the last five weeks," Boehner said Sunday on CBS's "Face the Nation." Netanyahu is headed to Washington to deliver a speech to Congress just two weeks before Israeli voters head to the polls to determine whether he remains on as prime minister. He's expected to lobby against a deal with Iran to thwart that country's nuclear ambitions -- which the Obama White House has played a leading role in negotiating. Netanyahu was in route to Washington on Sunday morning. A senior State Department source said Secretary of State John Kerry had spoken with him Saturday about the Iran negotiations. CNN
Homeland Security Funding Drama Darkens U.S. Fiscal Outlook
Congress narrowly averted a partial shutdown of the U.S. domestic security agency late on Friday night, but the forces behind the chaotic episode remain - fractious Republicans and House Speaker John Boehner's lack of control over them. That may portend more serious trouble ahead as Washington confronts fiscal challenges on a grander scale. In five to seven months, the federal debt ceiling will again be reached, and by October Congress must pass spending bills to keep the government running in the new fiscal year. Failing to deal effectively with these issues could have much more damaging repercussions - such as a broad government shutdown or a debt default - than a partial shutdown of the Department of Homeland Security (DHS). Reuters
PLEASE DO BUSINESS WITH THOSE WHO DO BUSINESS WITH US -- OUR ADVERTISERS.
Winter Storm Promises Snowy, Icy Mess For Northeast And Midwest
March is coming in like a lion, with a wintry mess of ice and snow expected to hit the Midwest and Northeast on Sunday. Snow is expected to fall from from Indiana through Pennsylvania into New York and southern New England, with between 3 and 5 inches of powder expected. Indianapolis, Columbus, Cleveland and Pittsburgh are expected to see the heaviest accumulation, though New York City and Boston could get between 1 and 3 inches. That puts Boston on the brink of breaking its all-time snowfall record for one season, which is currently 107.6 inches and was set in the winter of 1995-96, according to NECN. New York City's sanitation department issued a snow alert for Sunday starting after noon, with snowplows, salt spreaders and staff ready to spring into action, according to The Associated Press. MSNBC
Marijuana Becomes Serious Business At D.C. Convention
Part patchouli, part power suit, entrepreneurs and enthusiasts gathered over the weekend for the District's first cannabis convention since the city legalized recreational marijuana — offering a glimpse of the emerging markets that could take hold in the nation's capital. Although the faint smell of marijuana hung over the Southwest D.C. hotel's exhibition hall — where attendees could get tips on how to grow it, buy products to smoke it and speak with consultants on how to market it — nowhere could it be found. A pot convention without any pot — out in the open anyhow. The District's legalization laws, which took effect Thursday, were partly to blame for that. The laws allow for the possession of up to 2 ounces of marijuana but no sales or smoking in public. Washington Times
Evidence Of Fraud In Hurricane Sandy Reports
Thousands of people who have been denied flood insurance claims for homes destroyed by Hurricane Sandy have been crying fraud. Now, the executive in charge of the Federal Emergency Management Agency's insurance program tells 60 Minutes he has seen evidence of fraud in reports used to deny them full insurance payouts. The executive, Brad Kieserman, FEMA Deputy Associate Administrator for Insurance, also tells correspondent Sharyn Alfonsi he has seen evidence of the use of unlicensed engineers for flood damage reports, another criminal act. What's more, he says FEMA has been aware of this evidence for more than a year. Kieserman speaks to Alfonsi for a 60 Minutes investigation into how fraud may have been the reason thousands of homeowners' claims were denied. CBS
THANK YOU FOR VISITING OUR WEB PORTAL. PLEASE TELL A FRIEND.
Massive "Demand For Tickets" To Netanyahu Speech, Boehner Says
House Speaker John Boehner, R-Ohio, said the White House has "attacked" him and Israeli Prime Minister Benjamin Netanyahu over the Netanyahu's planned address to Congress Tuesday in which he is expected to criticize international negotiations over Iran's nuclear program. "The demand for seats in the House, the demand for tickets, I've never seen anything like it. Everybody wants to be there," Boehner said. "What I do wonder is why the White House feels threatened because the Congress wants to support Israel and wants to hear what a trusted ally has to say. It has been, frankly, remarkable to me, the extent to which, over the last five or six weeks, the White House has attacked the Prime Minister, attacked me, for wanting to hear from one of our closest allies." CBS
Kerry, Russian FM Meet In Geneva As Ukraine Tensions Simmer
U.S. Secretary of State John Kerry met Monday with his Russian counterpart in what appeared to be less than amicable talks amid continuing tensions over Ukraine and American calls for a full probe into the murder of a prominent opposition figure in Moscow. immediately provide details of the discussion. Kerry said in a tweet that they talked about Ukraine, Syria and ongoing negotiations with Iran over its nuclear program. But in a change from their usual cordial encounters for cameras, neither man smiled or spoke substantively as they shook hands at the start of the talks that took place less than a week after Kerry told Congress that Russian officials have lied to his face about Moscow's role in Ukraine. Atlanta Journal
John Kerry Doesn't Want Benjamin Netanyahu Visit To Become 'Some Great Political Football'
Two days before Israeli Prime Minister Benjamin Netanyahu is set to speak to a joint session of Congress, Secretary of State John Kerry said the prime minister is welcome to speak in the U.S. but worries it injects far too much politics into the relationship. "The prime minister of Israel is welcome to speak in the United States, obviously," Kerry said today in an exclusive interview on ABC's "This Week." "I talk to the prime minister regularly, including yesterday." But, Kerry added, "we don't want to see this turned into some great political football." Kerry echoed frustrations expressed by the White House that House Speaker John Boehner's invitation to Netanyahu was inappropriate. ABC
VOA VIEW: Kerry is backpedaling.
Upping Juvenile Criminal Age To 18 May Be Texas Non-Starter
Jason Wang and Johnny Truong were part of a gang that dressed as utility workers and held a suburban Dallas homeowner at gunpoint, making off with $68,000 in cash, electronics and jewelry before they were eventually caught. Although both were minors, the law treated them very differently because Wang was 15 and Truong was 17, setting their adult lives on very different courses. Wang went to a juvenile lockup, where he took classes that eventually helped him earn a college scholarship. Troung went to prison, where little effort was spent on trying to turn his life around. "I felt like I was just a little kid compared to everybody else, and that I wasn't fully mature," Truong said. "There was no concern with rehabilitation." ABC
Obama's Claim That Keystone XL Oil 'Bypasses The U.S.' Earns Four Pinocchios
President Obama, seeking to explain his veto of a bill that would have leapfrogged the approval process for the Keystone XL pipeline, in an interview with a North Dakota station repeated some false claims that had previously earned him Pinocchios. Yet he managed to make his statement even more misleading than before, suggesting the pipeline would have no benefit for American producers at all. The Fact Checker obviously takes no position on the pipeline, and has repeatedly skewered both sides for overinflated rhetoric. Yet the president's latest comments especially stand out. Let's review the facts again. Washington Post
Israel Says It Foiled Gaza Smuggling Ring Helping Hamas
An Israeli-Palestinian smuggling ring funneled iron, electronic equipment and other prohibited materials to Gaza, bypassing Israel's stringent border security to help Hamas rebuild its militant infrastructure following last year's war, Israel said Monday. Hamas, a bitter enemy of Israel's, suffered heavy losses in last year's 50-day war, in which Israel carried out some 5,000 airstrikes on targets throughout Gaza. Hamas fired thousands of rockets into Israel during the fighting, in which more than 2,200 Palestinians and 72 people on the Israeli side were killed. Hamas, which has controlled Gaza since 2007 but is suffering from international isolation and a cash crunch, has been trying to rebuild itself since the fighting ended. Houston Chronicle
YOU can speak out and be heard by having your own "Column" - Visit the "Public Opinion" Section above.
Venezuela Orders U.S. Embassy To Reduce Staff, Says Americans Detained
Venezuelan President Nicolas Maduro ordered a reduction in the number of officials allowed to work at the U.S. embassy in Caracas and said several Americans were detained as tensions mounted between the two countries. U.S. officials who remain will be required to obtain approval for any meetings they hold in the country, Maduro said Saturday on state television. He presented a folder during the speech that he said contained evidence embassy officials were working to destabilize the South American country. "I have the proof here," Maduro said after a pro- government march in Caracas. "Videos, audio recordings and testimonies of the illegal, conspiratory activities of various functionaries of the U.S. government." Philadlephia Inquirer
Deadly Bacteria Release Sparks Concern At Louisiana Lab
A dangerous, often deadly, type of bacteria that lives in soil and water has been released from a high-security laboratory at the Tulane National Primate Research Center in Louisiana. Officials say there is no risk to the public. Yet despite weeks of investigation by multiple federal and state agencies, the cause of the release and the extent of the contamination remain unknown, according to interviews and records obtained by USA TODAY. The incident has raised concerns that bacteria from the lab may have contaminated the facility's grounds and though initial, limited tests didn't detect it, some officials are pressing behind the scenes for more action, records show. The safety breach at Tulane's massive lab complex 35 miles north of New Orleans is the latest in a recent series of significant biosafety accidents at some of the most prestigious laboratories in the country where research is performed on bacteria and viruses that are classified as potential bioterror agents. USA Today
For Hillary And Bibi, A Long And Sometimes Fraught Relationship
The phone call between Hillary Rodham Clinton and Israeli Prime Minister Benjamin Netanyahu lasted 45 minutes. For 43 of them, she talked and he listened. The U.S. secretary of state lectured the Israeli leader, accusing him of trying to do an end run around American opposition to settlement-building and embarrassing Vice President Biden during a visit to Israel, according to interviews with people present during the 2010 call or who were briefed on it afterward. She read from a script for part of the lecture, so as not to miss any key points. "The word 'humiliation' appeared very prominently," recalled Michael Oren, then the Israeli ambassador in Washington. "As in 'You have humiliated the United States of America.'?" Washington Post
Florida's Rubio Close To Decision About Presidential Run
Marco Rubio isn't quite ready to say he's running for president, yet admits it sure does look like he will seek the White House in 2016. "I think that's reflected in both our travel and some of the staffing decisions that we've made," the Florida senator told The Associated Press. "We — if in fact I make that final decision on a run — want those elements to be in place." The message that his decision is still pending is one Rubio delivered again this past week on stage, both at the Conservative Public Action Conference outside Washington and at the conservative Club For Growth in Palm Beach. But allies of the first-term senator and former speaker of the Florida House who have spoken with him about his plans fully expect that he will run for president, rather than a second Senate term. Charlotte Observer
Kerry Asks For Benefit Of The Doubt On Iran Nuclear Talks
Secretary of State John Kerry on Sunday tried to calm tensions with Israel before Prime Minister Benjamin Netanyahu's congressional address, yet insisted the Obama administration's diplomatic record with Iran entitles the U.S. to "the benefit of the doubt" as negotiators work toward a long-term nuclear deal. Kerry said in an interview broadcast before he left for more talks in Switzerland with Iran's foreign minister that Netanyahu was welcome to speak in the U.S. and that the administration did not want the event "turned into some great political football." That sentiment was a step back from some of the sharp rhetoric between the allies in recent weeks, and Kerry mentioned that he talked to Netanyahu as recently as Saturday. Las Vegas Sun
VOA VIEW: There is no trust to give Kerry or Obama the benefit of any doubt.
With Federal Programs, Small Businesses Can Land Big Contracts
The federal government reserves a percentage of every budget for small-business contracts, and any contract under $3,000 is set aside for small businesses. Nellis must adhere to federal mandates designed to keep competition fair so larger companies don't walk away with the lion's share of federal work. There are hundreds of rules and regulations that inform how the government awards contracts, and surprisingly often, they favor the underdogs. Federal contracts are desirable because they often include big work orders and employers who know what they want. Businesses that do federal work have peace of mind that an employer won't skip out on a check.
"With commercial work, you always have to worry about pay," said Douglas Allen, owner of Nellis contractor PowerChoice Construction. "But with the government, the paycheck always comes." Las Vegas Sun
Warren Buffett Admits 'Thumb-Sucking' Investment Mistake Cost $444 Million
Billionaire Warren Buffett blamed his slow, "thumb-sucking" management of his investment in supermarket company Tesco for a $444 million loss, the company's biggest since 1975. In his annual letter to shareholders of Berkshire Hathaway, Buffett, 84, said "an attentive investor, I'm embarrassed to report, would have sold Tesco shares earlier." "I made a big mistake with this investment by dawdling," Buffett wrote. By the end of 2012, Berkshire Hathaway had spent $2.3 billion for 415 million shares of Tesco. Buffett said he "soured" his relationship with the company's management of the time and sold 114 million shares, making a $43 million profit. UPI
WE ACKNOWLEDGE AND THANK ALL OUR SOURCES FOR THEIR CONTRIBUTIONS IN MAKING US AMERICA'S NUMBER ONE NEWS & INFORMATION PORTAL.
Colleges Using Coffers For Financial Aid To Illegal Immigrants Stirs Debate On Immigration Reform
Several U.S. colleges are giving financial aid directly to students who are young illegal immigrants, extending the debate about helping people in the United States illegally at the expense of Americans who are in need of similar opportunities. Such opportunities have opened up since President Obama's 2012 executive action that deferred deportation to millions of young people brought to the U.S. illegally by their parents. However, they still are largely ineligible for state or federal student aid.
New York University -- which receives federal, state and city money -- says the aid given to illegal immigrants is not at the expense of American students. Fox News
Kerry: ISIS Is Being Defeated
Washington (CNN)Secretary of State John Kerry insisted that the United States' allies in the Middle East remain on course to defeat ISIS -- though he acknowledged the challenge in Syria is a particularly difficult one. "Each time the Iraqis have now gone forward in an offensive effort, together with allies, the coalition, we have routed ISIL," Kerry said, using an alternate name for the group, during an appearance on ABC's "This Week" on Sunday. He said opponents of the group have regained "a fixed, significant percentage" of the ground that the group had taken. CNN
Scott Walker: 'My View Has Changed' On Amnesty
Wisconsin Governor Scott Walker admitted Sunday to changing his views on the vexing issue of immigration. Appearing on Fox News Sunday, the presidential was presented with a 2013 clip in which he told a Wisconsin newspaper that he could envision undocumented workers who pay penalties being offered a pathway to citizenship. Walker said Sunday that he has since changed his mind on what many conservatives deem to be "amnesty." "I don't believe in amnesty, and part of the reason why I've made that a firm position is I look at the way this president has mishandled that issue," Walker said. "I think the better approach is to enforce the laws and to give employers, job creator s the tools like e-verify and other things to make sure the law is being upheld going forward." Bloomberg
VOA VIEW: Walker made a smart admission.
Maryland Senator Proposes Bill Allowing U.S. Troops To Drink At Age 18
A senator in Maryland is proposing a bill that would allow 18-year-old members of the U.S. military to drink alcohol. Sen. Ron Young, D-Frederick, made the proposal to the Senate Education, Health and Environmental Affairs Committee on Friday. "If someone can risk their life, why shouldn't they be able to have a glass of beer or wine with dinner?" Young said. The bill would allow service members under 21 to drink beer and wine at a bar or restaurant after showing valid military identification. The law would not allow legal drinking of hard liquor or buying alcohol at a store to take home. UPI
Boehner Says It's Not Easy Leading Republicans
Under fire for an ongoing showdown over funding for homeland security, Speaker of the House John Boehner said Sunday it's not easy to lead his rambunctious Republican caucus. Conservatives dealt Boehner a stunning defeat Friday by rejecting a three-week funding measure for the department, which set Congress scrambling to avoid a shutdown before midnight. Asked whether he can lead the Republicans, Boehner said, "I think so. I'm not going to suggest it's easy. Because it's not."
"But remember what's causing this," Boehner said on CBS's "Face the Nation." "It's the president of the United States overreaching." NY Post
Dot-Com Deja Vu: Nasdaq Closes In On Its Record High
The last time the Nasdaq was this high, Bill Clinton was president, Microsoft dominated the tech world and the iPod, iPhone and iPad didn't exist. Fifteen years later the Nasdaq is again near 5,000 and close to topping its record from the dot-com boom. The index has clawed back, riding a six-year bull market, and is less than 100 points from its all-time high of 5,048.62 reached March 10, 2000. But this isn't the Nasdaq of Pets.com and Webvan, when companies were valued on "cash burn rates" and "eyeballs." "Certainly, the Nasdaq at 5,000 conjures up images of a tech bubble," said Jack Ablin, chief investment officer at BMO Private Bank. "But we've had time for business profits to grow into those crazy expectations 15 years ago." Tampa Tribune
ATTENTION TALK SHOW HOSTS:We are honored that many radio talk show hosts use our Web Portal for their "show prep." We would appreciate your occasional mention of our site to your audience. Thanks!
Boehner Plays Down Republican Dissent; Says It's Over Tactics Not Goals
U.S. House of Representatives Speaker John Boehner played down any possible risk to his continuing leadership on Sunday, saying that disagreements with fellow Republicans were over tactics and not goals. "We do have some members who disagree from time to time over the tactics that we decide to employ. But remember that Republicans are united in this idea that the president has far exceeded his constitutional authority," he said in an interview on the CBS program "Face the Nation."
The House narrowly averted a shutdown of funding to the Department of Homeland Security on Friday after Boehner failed to rein in conservative Republicans. Reuters
Venezuelan President Claims Americans Detained For 'Espionage'
Venezuelan President Nicolas Maduro said on Saturday his government had captured Americans, including a pilot, involved in espionage activities and said U.S. citizens in the future will have to seek visas to come to the OPEC nation. Speaking during a rally, he said his government will prohibit some U.S. officials from entering Venezuela in retaliation for a similar measure by the government of President Barack Obama against a group of Venezuelan public officials. "We have captured some U.S. citizens in undercover activities, espionage, trying to win over people in towns along the Venezuelan coast," he said, adding one was a U.S. pilot taken in the convulsed border state of Tachira. MSNBC
Hillary Clinton Already Is A Brand
Hillary Clinton has enlisted a Coca-Cola marketing whiz to help brand her expected presidential campaign. This is quintessential Clinton. The most politically savvy couple in America has a penchant for seeking out the latest shiny toy, a magic bullet to make everything work. By many accounts, the Coca-Cola executive, Wendy Clark, is able. She has worked closely with Roy Spence, a longtime Clinton ally. But more than branding or marketing, it'll be experience, ideas, vision and character that will determine the success of Clinton's presidential quest. The Clintons usually don't do well when they lose sight of that. Bloomberg
Los Angeles Police Kill Man In Struggle Captured On Video
In a fatal encounter captured on video, three Los Angeles police officers shot and killed a man on the city's Skid Row during a struggle over one of the officers' guns, authorities said. The graphic video widely circulated on social media within a few hours of the incident Sunday brought attention to the death of the man who wound up wrestling with police amid the tents, sleeping bags and trash of Skid Row, where many of the city's homeless stay. The three officers, one of whom is a sergeant, shot the man as they struggled on the ground for control of one of the police officer's weapons, after a stun gun proved ineffective, LAPD Cmdr. Andrew Smith said. The officers had been responding to a report of a robbery. Police said they planned to use the video in their investigation. San Diego Union
Justice Department To Fault Ferguson Police For Racial Tensions
The Justice Department has nearly completed a highly critical report accusing the police in Ferguson, Mo., of making discriminatory traffic stops of African-Americans that created years of racial animosity before an officer shot a black teenager last summer, law enforcement officials said. According to several officials who have been briefed on the report's conclusions, the report criticizes the city for disproportionately ticketing and arresting African-Africans and relying on the fines to balance the city's budget. The report, which is expected to be released as early as this week, will force Ferguson officials to negotiate a settlement with the Justice Department or face being sued by it on civil rights charges. Either way, the result is likely to be significant changes inside the Ferguson police department, which is at the center of a national debate over race and policing. Kansas City Star
VOA VIEW: Racial tensions have been caused by Obama and Holder.
Controversial Standardized Tests Debut In Florida Schools
More students are expected to flunk. School districts warn they might not be ready. And parents are threatening to boycott. Ready or not — and many school boards, parents and teachers have been screaming to lawmakers that they're not — Florida will roll out its new, much debated standardized tests on Monday. The Florida Department of Education is forging ahead, even with a host of unknowns hanging in the air. Students, for instance, don't even know what score they'll have to make to pass. "We need to question if we have gone too far, too fast," Miami-Dade Superintendent Alberto Carvalho recently told a Florida Senate education committee. Miami Herald
Afghan Army Takes On Taliban In First Solo Offensive
The Afghan army is waging its largest-ever solo offensive against the Taliban, hoping to strike a decisive blow ahead of the spring fighting season and prove it can rout the insurgents without the aid of U.S. and NATO combat troops. Afghan troops have been slowly pushing up through a fertile river valley in the southern Helmand province, with special forces mounting nighttime helicopter raids into mud brick compounds and ground troops gradually advancing across the poppy fields that in past years have furnished the insurgents' main cash crop. U.S. and British troops suffered some of their biggest losses of the decade-long war here, seizing territory that was later lost by ill-equipped and poorly trained Afghan forces. Afghan President Ashraf Ghani has vowed to break the grim cycle, and the latest offensive is widely seen as a test for his efforts to overhaul the army and police since taking office in September. SF Gate
ADVERTISEMENT:If you want to advertise your business or web site on this Web Site, send us an email by clicking on to "Contact" above. It could be the best business decision you make.
Palestinian Sources: Kerry Pressing Abbas To Hold Off On Anti-Israel Measures Before Election
US Secretary of State John Kerry is exerting pressure on Palestinian Authority President Mahmoud Abbas not to take any "fateful decisions" before the upcoming elections in Israel, Palestinian sources said Sunday. The PLO's Central Council is scheduled to convene in Ramallah this week to discuss the Palestinians' response to the Israeli government's decision to withhold tax revenues belonging to the PA. Some PLO officials have called for a series of "harsh" measures in response to the Israeli decision, including the suspension of security coordination and abrogating agreements with Israel. Other officials have urged Abbas to dissolve the PA and call for stepping up "popular resistance" against Israel. Jerusalem Post
US Senator Feinstein Slams 'Arrogant' Netanyahu: 'He Doesn't Speak For Me'
Diane Feinstein, the Democratic senator from California, told CNN on Sunday that Prime Minister Benjamin Netanyahu's contention that he is speaking for all Jews in lobbying against an agreement between the US and Iran is "arrogant." Netanyahu, upon boarding a plane to Washington for what his office says will be a historic address to Congress, said Sunday that he is going as an "emissary of all the citizens of Israel, even those who don't agree with me, and the entire Jewish people."
Netanyahu, whose speech has triggered a great deal of friction with the White House said, "I am greatly concerned about the security of the citizens of Israel and I will do what is necessary in order to ensure our future." Jerusalem Post
Islamic State Frees 19 Of 220 Abducted Assyrian Christians
Nineteen of an estimated 220 members of an Assyrian Christian community kidnapped by Islamic State (IS) in north-eastern Syria have been released, activists say. The Syrian Observatory for Human Rights monitoring group said an Assyrian commander had told it of the releases. Some reports say the releases were made in exchange for a sum of money. The kidnappings took place shortly before dawn on 23 February, when IS militants swept into about 12 villages. Men, women and children from the villages, located on the southern bank of the Khabur river, near the town of Tal Tamr, were taken captive. BBC
US Moves To Deport 150 Bosnians Over War Crimes
US officials want to deport 150 Bosnian immigrants who they believe to be involved in war crimes during the 1992-95 war, the New York Times reports. The paper says 300 people are suspected of having concealed wartime activities when they came to the US. As many as half are said to have had a part in the Srebrenica massacre, where 8,000 Bosnian Muslims died. More than 120,000 Bosnians sought US visas in the mid-90s, but little effort was made to check their backgrounds. They were asked to declare military service or other allegiances but the immigration system relied mostly on their honesty, the New York Times adds. BBC
Kerry Tight-Lipped On Strategy To Fight Isis In Mosul As Air Strikes Continue
As US-led coalition forces said they had launched seven air strikes on Islamic State (Isis) targets in Iraq and two in Syria, Secretary of State John Kerry on Sunday dampened talk of an imminent offensive against Isis in Mosul, Iraq. Last week it was reported that the offensive to take back the city would use Iraqi forces and would launch in April or May. Such reports attracted criticism for giving away coalition plans. "Contrary to what was in the newspaper ... we're not going to advertise when that will happen." Kerry said, during a wide-ranging interview with ABC News. "It will happen. But we're not going to talk about the strategy, we're not going to lay out the plans. The Iraqis are working hard to come up to speed, there's a lot of effort being put into this. "We will do it when the moment is right and we know we can move forward with the confidence that we want." Guardian
Obama Is Backing Plans To Raise Standard Of Brokers
A billion dollars a month. That's the approximate cost of America's failure to forge ahead with one of the reforms that would have the most immediate and direct impact on the financial wellbeing of the average family. And now President Barack Obama is wading into one of the longest and most complex regulatory battles on Wall Street to try to put an end to it, throwing his weight behind a proposal to raise the standards for any broker who wants to advise Americans on how they should invest their retirement savings. His goal? To ensure that when we take our retirement plans and roll them into IRA accounts with the help of some kind of financial adviser or broker, that adviser steers us into the product that's best for us, and not into one that's going to fatten his firm's bottom line or his own bonus check. Guardian
Tens Of Thousands March In Silence Over Killing Of Kremlin Critic Boris Nemtsov
Tens of thousands of Russians marched through Moscow on Sunday to pay their respects to Boris Nemtsov, the opposition leader who was murdered in the shadow of the Kremlin's walls on Friday. A crowd of around 70,000, many bearing the white, blue and red Russian national flag, gathered beneath iron grey skies at Moscow's Slavyanskaya square, half a mile from the Kremlin. Carrying flowers, portraits of Mr Nemtsov, and banners reading "I am not afraid," they marched in near-silence to the bank of the Moscow river before turning right towards the spot where Mr Nemtsov was killed. Telegraph
Iraq Launches Major Offensive On Isil North Of Baghdad, Says PM
Iraq has launched a long-awaited offensive against Islamic State of Iraq and the Levant (Isil) north of Baghdad, the country's prime minister announced on Sunday.
Haider al-Abadi said Iraq's army and Shia militia would move to recapture Salahuddin province, an Isil stronghold that includes Tikrit, hometown of Saddam Hussein.
"The prime minister and armed forces chief ... announce the start of the security campaign to liberate Salahuddin," said a statement issued by Mr Abadi's office. Telegraph
On Zero Discrimination Day, UN Urges Tolerance For Diversity
The United Nations agency leading the world's HIV/AIDS response has kicked off the 2015 global edition of Zero Discrimination Day as part of the Organization's wider effort to spur solidarity towards ending discrimination. "Discrimination is a violation of human rights and must not go unchallenged," United Nations Secretary-General Ban Ki-moon declared in a press release issued for the Day. "Everyone has the right to live with respect and dignity." This year's theme Open Up, Reach Out encourages all members of the international community to unite under the banner of diversity and celebrate each other's difference in an authoritative rejection of discrimination in all its forms. UN News
UN Envoy Dispatches Mission To Syria To Lay Groundwork For Aleppo 'Freeze'
The Secretary-General's Special Envoy for Syria, Staffan de Mistura, is continuing discussions with the Government of Syria on his proposed 'freeze' of localized hostilities in the city of Aleppo, the United Nations spokesperson's office said today. Mr. de Mistura is currently dispatching a mission to Aleppo to assess the situation on the ground amid continuing fighting throughout the Middle Eastern country, a note to correspondents issued this morning by the UN Spokesperson has confirmed.
The mission will seek to ensure that once the so-called 'freeze' is announced, humanitarian aid can "significantly increase," and any violations can be followed-up with the appropriate arrangements. UN News
ABC Online Canada National Post Daily Telegraph The Observer Wired News Xinhua News
VOA VIEW -- Is the opinion of "Voice of Americans", which is a private entity not affiliated in any way with the United States government or any of its agencies. "Voice of Americans" was formally "Voice of America" until the federal government filed a trademark on the name in 2005, decades after Voice of America, Inc. was formed, and long after the company began using the name "Voice of America" for print and radio broadcasts. A federal court has ordered us to turn over the web address "thevoiceofamerica.com" to the Broadcasting Board of Governors, a federal agency that oversees the international radio broadcasts which the United States transmits from various foreign locales as "Voice of America." We believe that this ruling violates our free speech rights under the First Amendment, and as such we are taking the matter up on federal appeal. Allowing the federal government to claim to be the sole and exclusive "Voice of America" will have far-reaching effects above and beyond our operations. The critical question is this: Who speaks on behalf of Americans? The government, which only exists through the consent of the governed, or actual American citizens? You, too, can express your opinions on this web site. We want you to be part of the Voice of Americans. Click on the blue "Public Opinion" button at the top of this page for full details. The opinions expressed are not necessarily the opinions of the ownership or advertisers of this web site.
Local News File